Home
»
Table Ideas
»
Best Dining Tablecloth Material For Everyday Use | Table Covers Depot
Best Dining Tablecloth Material For Everyday Use | Table Covers Depot
|
4 Difference Dining Tablecloth Materials, Which Is Best?
Different materials, different functions.
Do you use tablecloths on the dining table? The dining table cloth can add to the dining room beauty, it also gives a special impression, especially to welcome your guests. So as not to buy the wrong tablecloth, let's know the 4 differences in tablecloth material!
Cotton
Cotton is the most commonly used as a tablecloth. Cotton tablecloths are suitable for daily use and can protect the table from scratches.
Cotton tablecloth prices are also relatively affordable. Unfortunately, this material easily absorbs stains, so if we accidentally spill something on it, how to clean it is only by washing it, because surely the water will be immediately absorbed and remove the stains.
However, cotton tablecloths are easy to wash. Simply soak in a mixture of warm water and detergent, then rub the stained area. You should also pay attention to the tablecloth size because if it's been used for a long time and through several washing processes, cotton tablecloths tend to shrink.
Polyester
The polyester material is similar to cotton, but the difference is in the looks. Polyester is more shiny than cotton. This shiny material makes polyester tablecloths suitable for formal dining.
But we have to be vigilant because some people have allergies to polyester. This allergy comes from chemicals used to make polyester. So pay attention to it before buying a polyester tablecloth.
Vinyl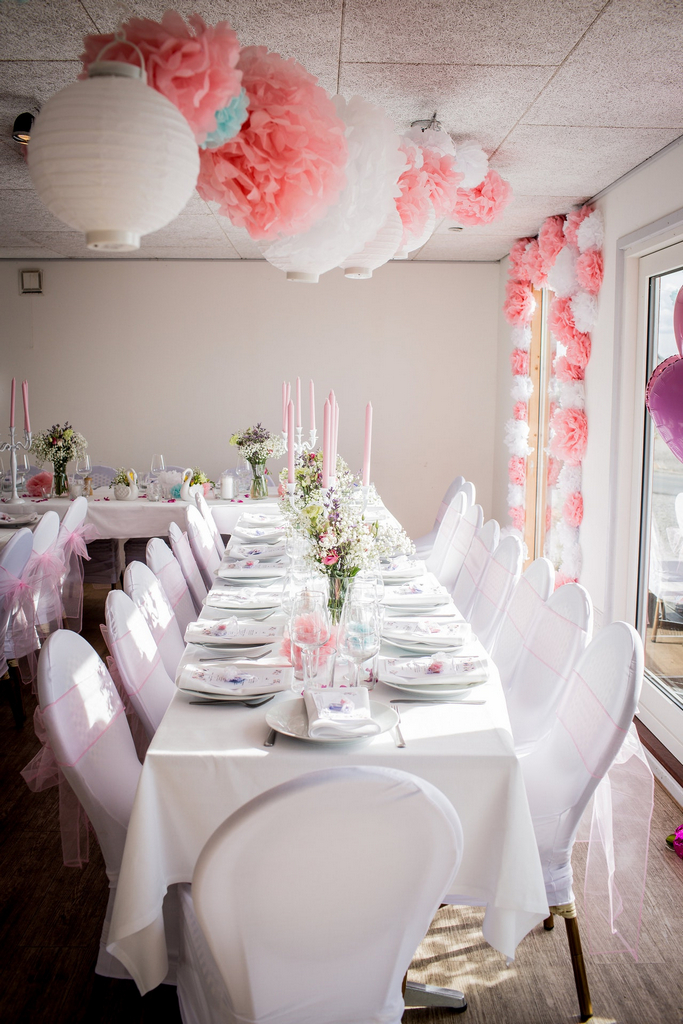 Vinyl tablecloths are best suited for outdoor events such as picnics or garden parties. This is due to vinyl material that is waterproof, durable in the sun, and easily cleaned if exposed to stains.
But, vinyl tablecloths are less suitable for use in formal dining events because the material looks cheap.
Silk
Silk is perfect for formal occasions such as weddings or anniversary parties. Among the previous materials, silk tablecloths certainly have the most expensive price. But the price is comparable with its fancy looks.
Typically, silk tablecloths have lace or embroidery accents in the edges to add a luxurious impression. The troublesome thing about silk tablecloths is that we have to be extra careful when washing it, because silk is very delicate and easily damaged.
So, which tablecloth do you choose?
5 Best Ways To Choose Tablecloths For Dining Room Beauty
Actually, table cloth plays an important role in the beauty of a room.
Whether we realize it or not, tablecloths play an important role in the beauty of a room. But unfortunately, these accessories often go unnoticed.
Although trivial, tablecloths can be one element that can liven up the dining room atmosphere and help to protect from the spills of food or drink stains.
In addition, tablecloths are also able to cover the defect area on the table.
Well, choose it must be careful. Here are 5 right ways to choose tablecloths. Come on, see the tips.
Check the motif detail of your tablecloth to make it look fun
Make sure the tablecloth you are going to use doesn't look tacky or rudimentary.
Choose the motif details correctly, which looks fun and not boring.
Yes, knitting motifs are one of the many decorations made of knitting material such as tablecloths. The presence of this handmade woven ornament will make the dining room atmosphere more warm and creative.
In addition, you can choose a minimalist cotton checkered tablecloth. The style is a fashion that never goes outdated and can give the feel of comfort.
Then, there are also tablecloths with elegant floral ornaments and will make your dining room fresh.
Buy with the best quality materials for long-lasting
The second tip is to choose tablecloths with high-quality materials.
It is intended that the tablecloth to be used is more durable.
For the type of material, you can choose brocade, cotton, linen, and silk. Meanwhile, other alternative tablecloth materials are vinyl, paper, and plastic.
Cotton tablecloths tend to be more durable than other types.
So, make sure to choose tablecloth material that suits your needs.
Pay attention to the dining table size and shape
One of the most important furniture in the house is the dining table. That's where the whole family can gather and enjoy their meals.
For this reason, choosing the right dining tablecloth needs to be a concern.
Yes, basically choosing a tablecloth needs to be adjusted to the dining table shape.
In general, a dining table shape is oval, round, rectangular or square.
The round table has a sitting formation that surrounds the table, so you have to buy a round-shaped tablecloth.
Meanwhile, the rectangular dining table has a shape that is parallel to the room, adjusting the tablecloth size to the size of the dining table.
Choose a matching tablecloth color
The next tip is to adjust the color to the dining room concept.
But usually, everyone has their own color preferences in choosing room accessories.
You can also choose bright or soft colors that match the color of the dining room wall, furniture or lighting.
To make it look warmer and softer, you can use pastel-colored tablecloths.
Meanwhile, there is nothing wrong if you choose a brightly colored tablecloth to create a cheerful and attractive impression.
Adjust to the dining table size
To support its function, a good tablecloth must be in accordance with the size of your dining table.
In other words, make sure you know the size of your dining table correctly. The right size means it is not too big or too small.
Determining the ideal size of a tablecloth is the process of measuring it as a rectangle or circle, depending on the difference in length and width.
That's some description about tips on choosing the right tablecloth for the dining room. If you already understand these five things, the next step is to adjust to your budget.
So, if you would like receive all these incredible shots about Best Dining Tablecloth Material For Everyday Use, just click save button to download the images to your computer. They're all set for save, if you like and want to take it, simply click save badge in the page, and it'll be instantly down loaded to your computer.
Here you are at tablecoversdepot.com, article above Best Dining Tablecloth Material For Everyday Use published. Many people trying to find info about Dining Tablecloth Material and certainly one of them is you, is not it?