Looking for DIY Ideas for Christmas Buffet Table Decorations? Check These Out!
|
One of the easy ways to serve food for your guests during a Christmas dinner party is by employing a buffet. It makes serving time swift and makes sure everyone gets the freedom to choose what they love. It's also another excellent opportunity to have several more fun decorations! Here are ideas for Christmas buffet table decorations to help you plan a beautiful celebration.
Decorating Buffet Table Ideas for Christmas Celebration
Contemporary Christmas Ideas
When decorating a dining room for your gathering on Christmas Eve, you need to consider new creativity to design the buffet. You can start by putting a contemporary art piece for a festive mood.  If you want something new, rare, and perfect to do, create a beautiful Christmas buffet mixed with some Contemporary Ideas.
Modern decorations can transform your holiday home into a wintry wonderland which is always fun and fast approaching. The coolest fact about them is that their color schemes and decorating themes are adjustable. Then, complete these ideas for Christmas buffet table decorations with a small artificial tree in between beverages and quick snacks, so your guest can start to come together.
Vintage Themed Christmas Ideas
Nothing is more special on Christmas evening than a buffet made in a Vintage theme with a glamorous impression from your guests. This design is considered a rare and artistic idea. A Vintage style is antique, memorable, and aesthetically elegant.  Plus, you can add the antique combination of contemporary decors to create gorgeous Christmas dining table centerpieces.
There are lots of ideas to go for while turning to a vintage focal point. There are many things to consider when putting together, like sparkly stuff, fresh greenery to your centerpiece. For the perfect appeal of these ideas for Christmas buffet table decorations, keep all your dishes in the same consistent color scheme. It will work together when you put a clean buffet in white and silver.
Handmade Christmas Decorations
Change up your Christmas buffet by crafting with your family members. You can start to make a  centerpiece that goes well with your budget.  For instance, create a snow ornament and hang it on your table. DIY Christmas table settings ideas with style will bring holiday beauty and stylishness at the same time, which can express your unique personality.
Christmas Flower Theme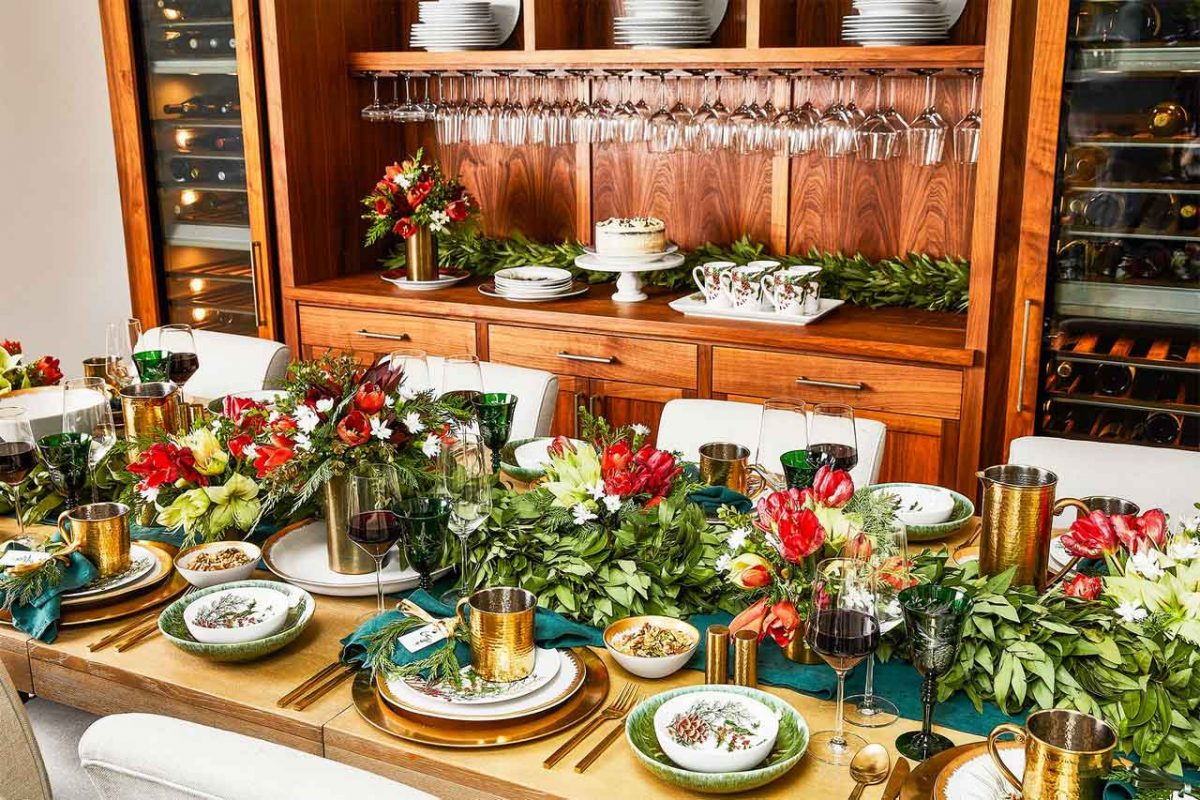 Christmas Flower arrangement decoration is the perfect option to create a chic and refined look centerpiece in your buffet.  There is no doubt that flower ideas for Christmas buffet table decorations will grab all the attention since the flower itself has a beautiful look. Don't forget to add the final touch by hanging the real flower decoration over the buffet table or you can choose an artificial flower.
Decorate your buffet and enjoy the setting for all of the coming entertaining charm and beauty of the season. All you need is creativity and some skill to create fun decorating. In this case, you can choose numerous ideas, such as contemporary, vintage, handmade centerpieces, and beautiful ornaments. These decorating ideas can make the presentation of your table more stand out.
Thanks for visiting tablecoversdepot.com, article above Looking for DIY Ideas for Christmas Buffet Table Decorations? Check These Out! published. Many people attempting to find info about Christmas buffet table decor and certainly one of these is you, is not it?