5 Jacquard Table Linens Design for Festive Dining Table
|
Table linens are practical for special events when you need a refined touch. Table linen enhances the tablescape in dramatic and beautiful ways, depending on the textures and color you choose. In case you want to create a festive feel during dinner, consider jacquard table linens as your option. Therefore, here is some recommendation for you!
Here Are Some Table Linens Design to Makeover Your Dining Table
Vintage Floral Table Linen
A jacquard design adds textures, color, and interest to your table décor. It is due to be available in a wide range of colors, including blue, grey, natural, and blush. It can create subtle ways as the centerpieces. The color and the textures can change the mood of your room. One of the designs that you should know is vintage floral.
The rich detail of a vintage floral ornament presents it ideal for stunning dining throughout the year. This Jacquard tablecloth is made from a combination of woven and cotton-linen fabric. Thus, it offers an elegant drape and appeal. Jacquard table linens are durable enough for everyday use, and they will boost special occasions for many years to come.
Spring Design Table Linen
The next model is spring style to set the calm effect on the tablescape. This tablecloth's intricate spring blooms decorate the tonal runner. Available in a wide range of colors, such as pink, purple, and bluebell is perfect for Easter brunch. This Jacquard is made from premium cotton-linen fabric and has exceptional drape and detail. Also, it becomes more lustrous and even softer with use.
Gold PVC Model
In case you want to set your outdoor dining table into a festive design, then gold PVC jacquard table linens are the best option. The material is made from cotton or linen, which is treated on one side to give it a waterproof finish. The coating is made from PVC that makes them durable to use on any occasion, especially in the summer months.
Multicolor Design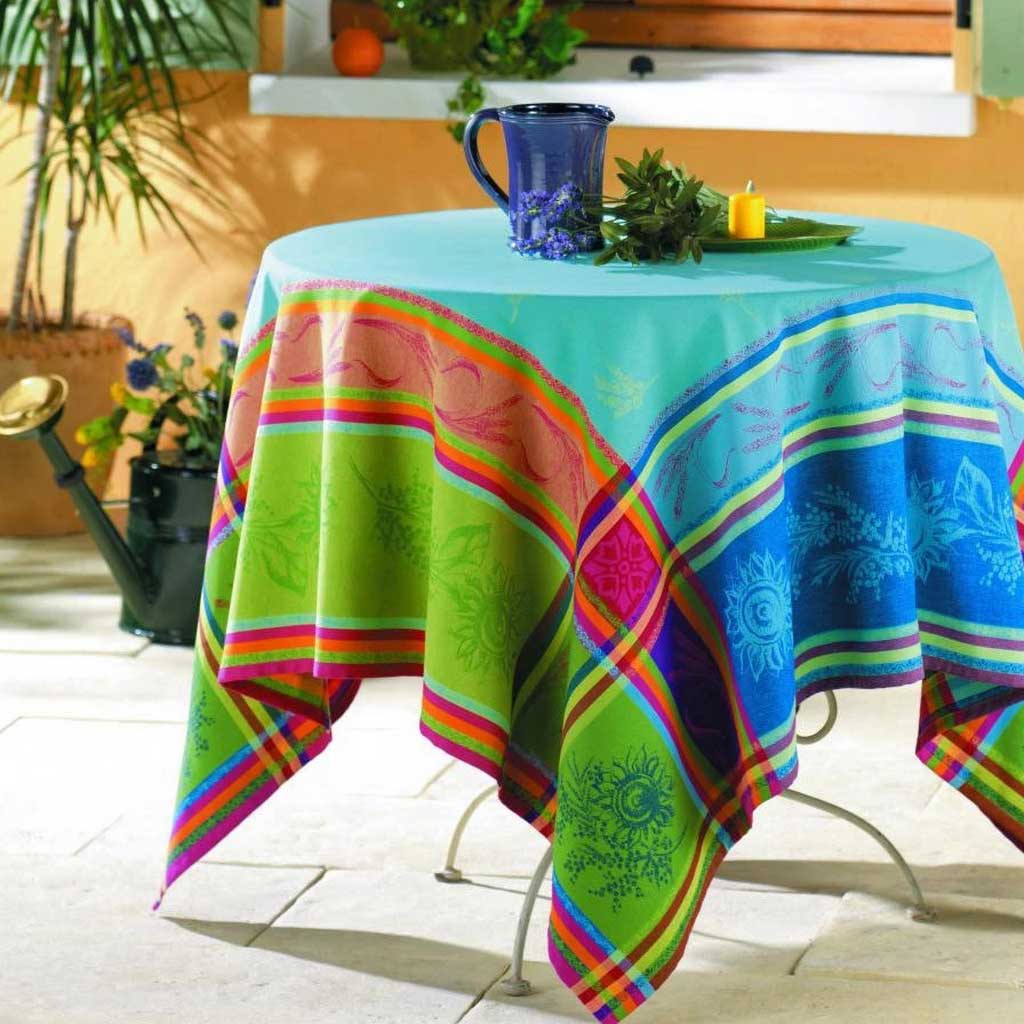 Once you have chosen the fabric of the tablecloth, consider the color and other table linen pieces. You can choose a multicolored hand weaved jacquard runner with beautiful borders. The design is inspired by the floral pattern to create a tablecloth that stands out on your table decor. This multicolor jacquard design is woven instead of being dyed. Thus, it has the best appeal for the tablescape.
Delicate Model
If you want to add the autumn vibes to your table, the delicate model is a great selection. Decorated with delicate florals, herons, and pheasants, linens transform the table into an autumn paradise. Jacquard table linens have durable cotton-linen materials that offer an elegant drape; a lush feel enhances everyday meals as well as a special event.
All in all, table linen can protect your table from any stain and spills. Certain motifs, fabrics, and textures are associated with specific moods, especially jacquard design. This type of table linens is suitable for everyday use but also fit in for special occasions. Thus, there are numerous designs that you can choose from delicate, floral, multicolor, spring motifs, and vintage design.