Using Red Velvet Tablecloth? Here Are 5 Benefits You Should Consider
|
Tablecloths become a powerful aspect of your home or event décor. They function well enough to set a casual, formal, romantic, and unique atmosphere. This is an essential aspect because guests will spend most of their time at the party sitting at the table. Therefore, red velvet tablecloth tends to maximize guest coziness by emitting a comfortable welcome. Here is the information for you!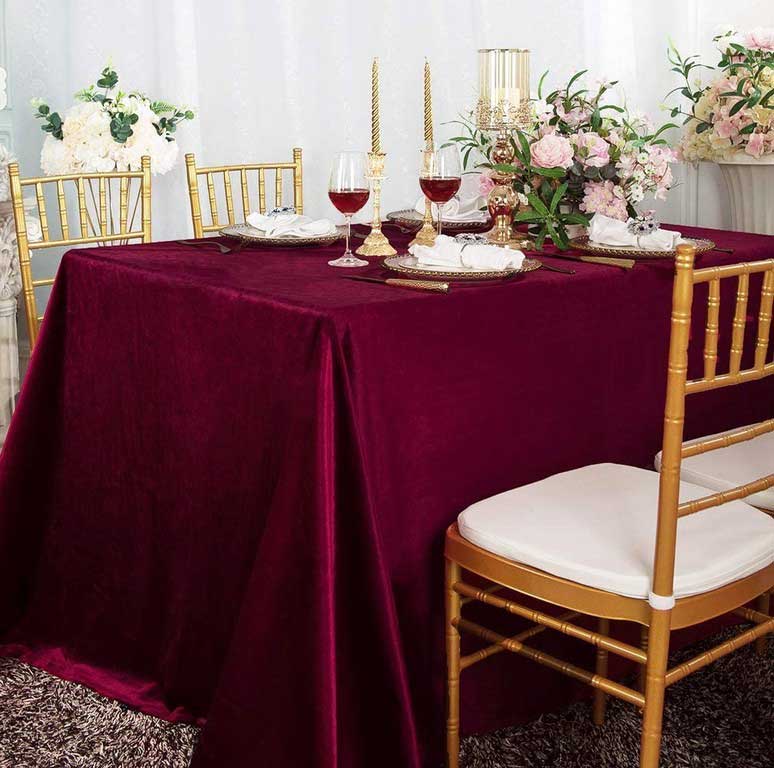 Benefits of Using Tablecloths at Your Event
1. Save Time and Money
If you want to make the table look more attractive, then you can use a tablecloth. This can make the table look better without having to burden your budget. A tablecloth can give the best impression for an unsightly table. No need to spend a lot of money, you can use tablecloths for years with proper care.
2. Available in Various Shapes and Sizes
As you know, party tables are available in various shapes and sizes, be they round, square, and rectangular. This sometimes limits your creative ideas to make the table look more attractive. Luckily, the red velvet tablecloth comes in a variety of shapes and sizes. You can turn smart decorating inspiration into a better reality.
You can turn a table into a luxurious dinner with the addition of a charming velvet tablecloth. You can give an attractive impression by choosing a round tablecloth. As for the rectangular table, then you can choose a beautiful rectangular tablecloth. There is even a tablecloth with a square size that is pleasing to the eye,
3. Easy Cleaning
The benefit of using a tablecloth on certain occasions is that it is easy to care for it. Just wash the tablecloth after use and store it in the right place. Most tablecloths are machine washable, so they are easy to care for. But, don't forget to follow the washing instructions for the red velvet tablecloth and how to properly care for it so it can be used for a long time.
4. Align the Furniture and Decorations In The Room
Tablecloths make it easy for you to give a cohesive and harmonious look to your décor. There is no need to spend a lot of money to give an attractive appearance to the decorations and furniture in the room. Match your party table with tablecloths, curtains, backdrops, and other decorations with the help of elegant tablecloths. That way you can provide harmony between interesting decorations.
5. Multiple Uses and Customizable
Tablecloths also provide an opportunity for you to add a touch of depersonalization of creativity. You can even customize the desired style according to your needs and the style you like. In addition, you can also reuse the same tablecloth for a unique impact every time in several meetings. Just decorate it with a red velvet tablecloth, you can give it a new look.
Those are some of the benefits that you can get from using tablecloths to decorate the event you want. With an attractive range of tablecloths, you can save budget, harmonize furniture and decor, and save time on table decoration. Not only that, but tablecloths are also easy to clean just by washing and storing them in the right place.