Types of Beach Themed Table Linens You Should Know | Table Covers Depot
|
Table linens determine the well-decorated table. The style of the design can make your space look better. However, table linens also can add the look to any mealtime in every situation, such as backyard picnic, formal dinner, even teatime in the terrace. You can create an easy-going casual vibe in your table by using beach themed table linens to feel more special. Therefore, if you want to have great linen, here are tips you should consider.
Types of Table Linens in Beach Themed          
Placemats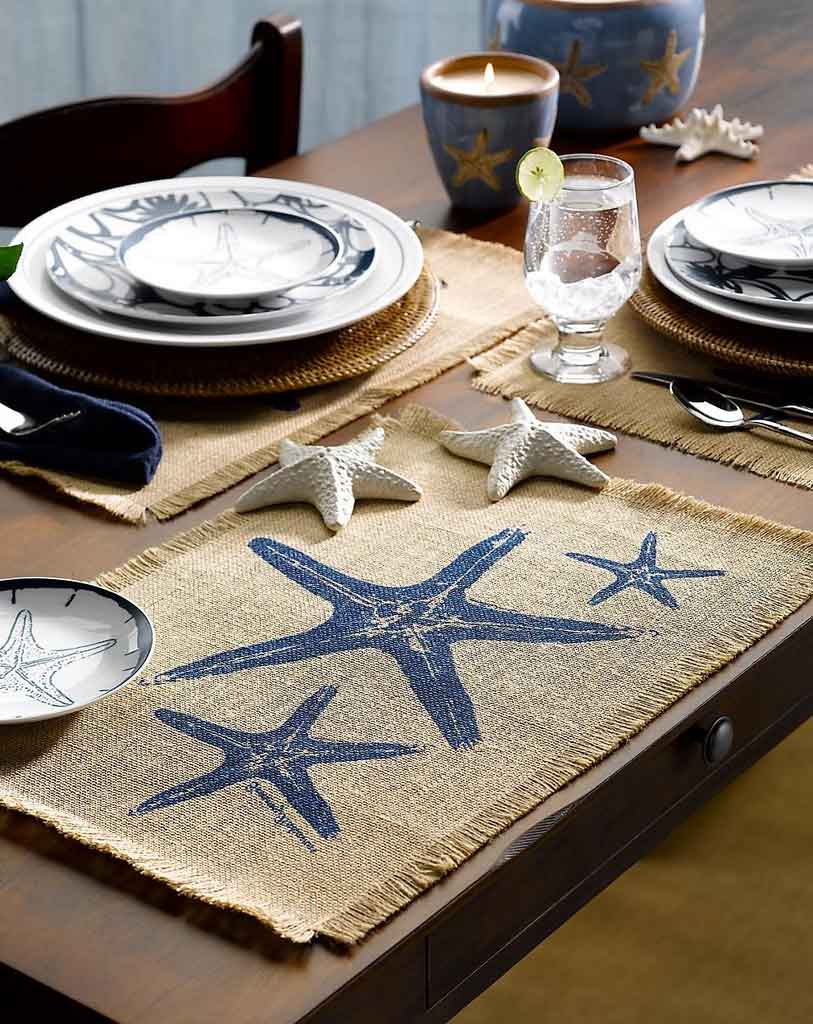 The quality of linen fabric determines the key aspect of having a beautiful and functional table setting. The table linens need to avoid spills, stains and frequent washes when it used. If you want to have a good quality of fabric that won't fall apart after the second wash, you need to choose placemats as your primary option. It is often combined with table runners and has square or rectangular portions of fabric used for individual spaces.
Table Runners
You can get fancy beach themed table linens in the form of table runners type. It is a great addition to boost your table setting more attractive. Typically, they are a strip of fabric and place in the middle of a table across its length. Not only give protection from the table, but they can also vary in the accent of color. Significantly, they can match for an event that requires a centerpiece.
Table Cloth
Table cloth comes in a great design in a wide of variety of colors, shapes, and materials. The material consists of cotton, polyester, cotton, and poly-cotton. Every material can have a different characteristic. You can choose based on your need. However, the standard table cloth is come from in the cotton and linen. Also, the color from this linen has a scheme and flair accent, especially in beach themed table linens.
Table Skirts
For formal events, like a wedding, table skirts play an essential role to add a beautiful look. Covering from the top of the table to the floor, table skirts come in great colors and easy to apply in every table. Besides that, it is the best selection if you want to have affordable linens that have a classy look. The design of table skirts often come in a beautiful box fold and flowery. It is best for any table types.
Table Overlays
Table Overlays or called by table-toppers come in various color and pattern. But you can get an attractive design by beach themed table linens. The ornament such as starfish, sand and blue color is the best option to add the style in your table. You can get decorative table linens from this theme. However, table overlays also come in various materials, including colorful satins, embroidery, and classic lace.
To sum up the information above, you can discover the types of table linens. They consist of different materials, sizes, colors, and pattern. It will match in every setting for the event that you held. From the table skirts, overlays, runners, and placemats, you can get the table linens in various model or color. Thus, you can synchronize your color pick and design to create your desired beach themed dinner.
Here you are at tablecoversdepot.com, article above Types of Beach Themed Table Linens You Should Know published. Many people trying to find details about beach wedding tablecloth and definitely one of these is you, is not it?