Vinyl Christmas Tablecloths And How to Decorate It | Table Covers Depot
|
Christmas is one of the holidays when the entire family gathers around the table to celebrate with enormous meals. The foods are an essential part of this celebration, but the mood of Christmas is table setting. Thus you need to have appropriate table linen to start it, like vinyl Christmas tablecloths. In case you want to decorate it, here is the list you should pick.
Here Are Vinyl Christmas Tablecloths Decorations Ideas for Christmas Celebration
White with Print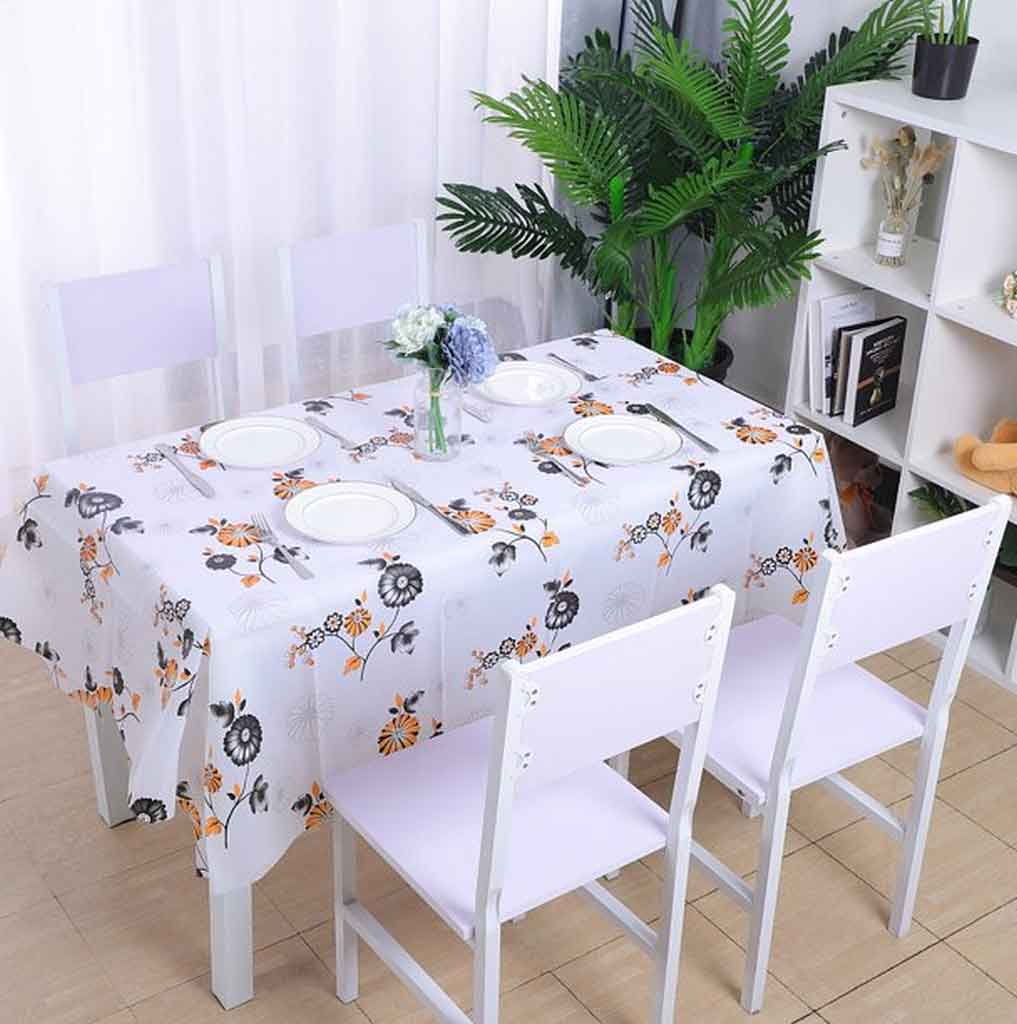 Do you think white vinyl table linen is plain and boring? You might be wrong since how beautiful the white vinyl with the plaid ribbon and holly leaf pattern. Don't you think it looks elegant? The most essential aspect to decorate this table setting is matching tableware. You can use the same pattern with a vinyl tablecloth and try to match the table napkins.
Also, you can use the beautiful winter bird pattern, to show that the cardinals have come down on your tablescape to wish you and your family a Merry Christmas. Apart from the cardinals, the ivory vinyl Christmas tablecloths also work well featuring curling ribbons and holly branches. The messages written on the tablecloth are also very positive for people who are gathering around.
Blue Color Scheme
Do not limit yourself to traditional Christmas colors such as red, green, and gold tones during the holiday season. You can experiment with numerous color palettes for the decoration that you might love. The table cloth clad in blue is one of the best options for a new table setting. The color can give a modern look and make a sophisticated alternative from a conventional Christmas table.
Plain Gray Tablecloth
The next idea that you can choose is by using red and gray colors. These colors are one of the classiest color combinations that most people pick. You can also add hints of white to the table setting. These mishmash of vinyl Christmas tablecloths are beauty and elegance increases manifold. Also, these Christmas table settings show you that red and white mix well together with a gray scheme.
Checkered Tablecloth Pattern
Do you have traditional Christmas colors, such as green and red clashing with your interiors? You don't need to worry, since you can enhance the beauty of your house by using the existing colors instead of going for the typical Christmas vibes with the red and green. You can decorate your dining room in bold and turquoise colors with a checked pattern.
Modern Tablecloth Setting
In case you want to bring a modern setting, you can try this idea. Try to make the elegant look by using the classic color combination of red and gold. This decoration is simple and sophisticated for perfect modern Christmas decoration. To add the final touch of vinyl Christmas tablecloths, you can match them with napkins and white tableware.
There is no wrong that Christmas is the most precious time to set the mood in the holiday season. With this in mind, you can use table setting decoration to enhance the table appeal for the Christmas celebration. You can start with a modern table setting, white with paint decoration, checked tablecloth, and using a different look with a blue scheme.
Here you are at tablecoversdepot.com, article above Get To Know How to Decorate Vinyl Christmas Tablecloths published. Many people trying to find details about round vinyl Christmas tablecloths and definitely one of these is you, is not it?