4 Wedding Table Runner Ideas to Beautify your Decoration | Table Covers Depot
|
Your guest will spend their time on their seat, so you should give them an extra comfort. Table runners are the easiest and quickest way to dress up a long table. They can fill the space and offer the perfect backdrop for flowers and candles. Whether you are going for a glamorous vibe or backyard rustic feel, these wedding table runner ideas can enhance your decoration.
Four Table Runner Ideas That You Should Consider for Wedding
Sequin Table Runners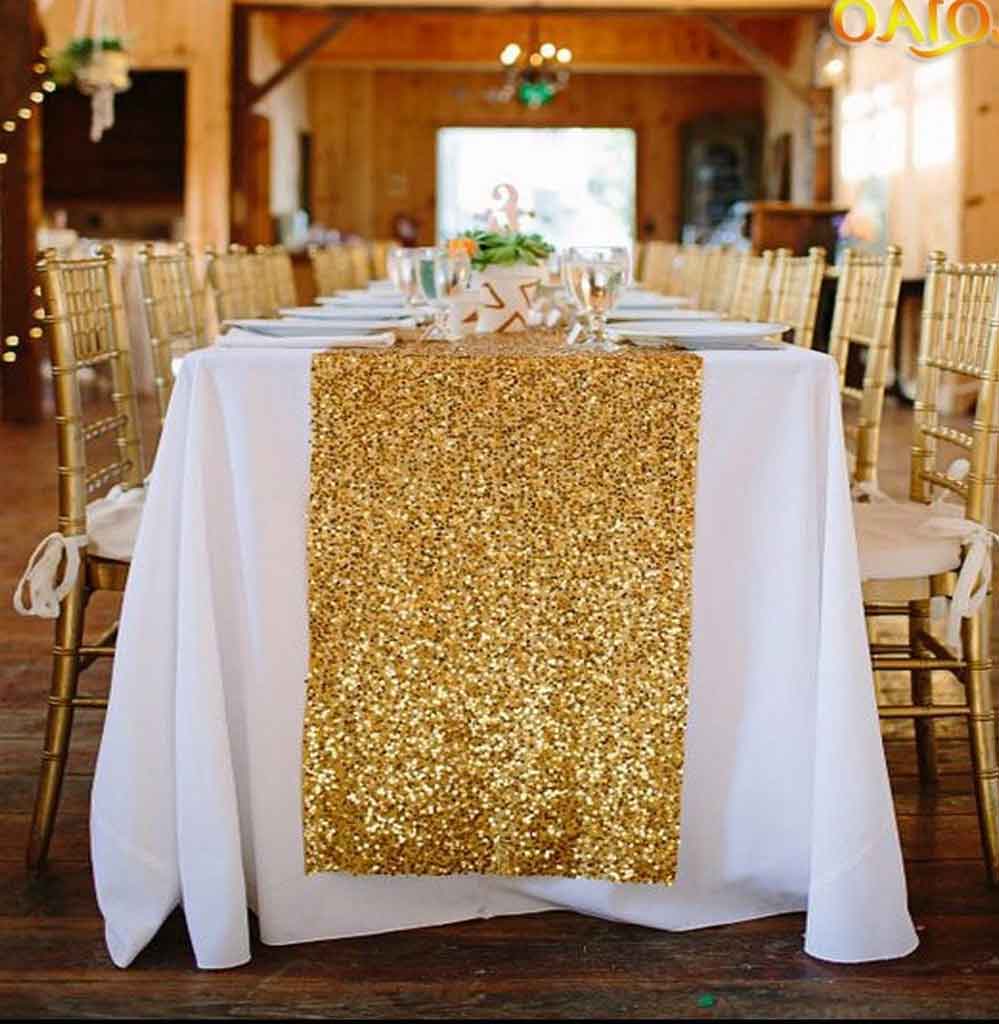 If you celebrate your wedding on New Year's Eve, choosing sequined runners can add high glamor and shine. Besides, you can pair your sequin table runners with an emerald green shade to create an accent with soft pinks for a more delicate look. Another way to make it more stand out, let the sequins tablecloth drop from the table.
Striped Table Runners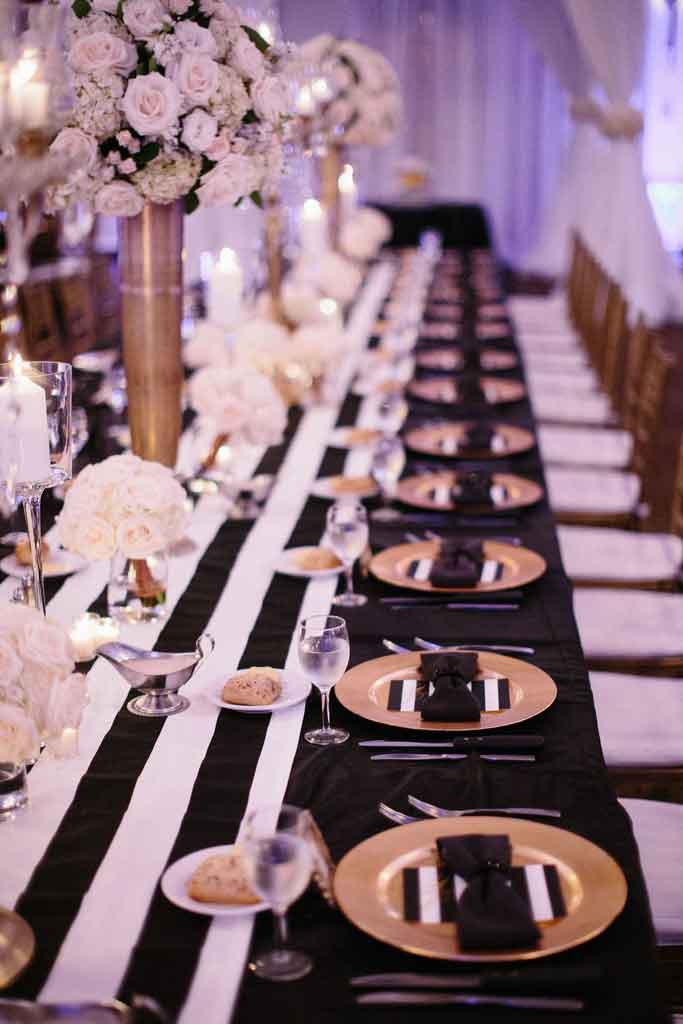 Black and white always match with gold or pink for a modern wedding. To make this theme more stand out, you can use striped black and white as table runners. Then, you can choose gold wedding table runner ideas as the main focal point. Adding the final touch of pale floral arrangements can also nicely option. The result of this elegant combination is classic and feminine design.
However, you can pick black and white tablespace pairs with white elements for formal settings. It appears minimalist and sophisticated at the same time. To enhance the look, give the additional touch with bow ties napkin folding in your table. In addition, you can make a rustic feel by using a stripes table runner with wood plate charges.
Bright Table Runners
In case you want to make an outdoor wedlock ceremony, you can use bright colors as the theme of your decoration. Bright wedding table runner ideas are an excellent choice for a rustic theme. Besides, you can choose green succulents and wooden plate charges to bring out the hues in the best way.
As a reference for perfect wedding decoration, you can use a stunning Indian-inspired wedding as your idea. For instance, two different shades of orange paired with bold pink hues, fresh fruit, and vibrant rugs. However, if you want to create a dreamy fairy-tale feel, matched with an orange table runner and sorbet-colored flower linens.
Lace Table Runners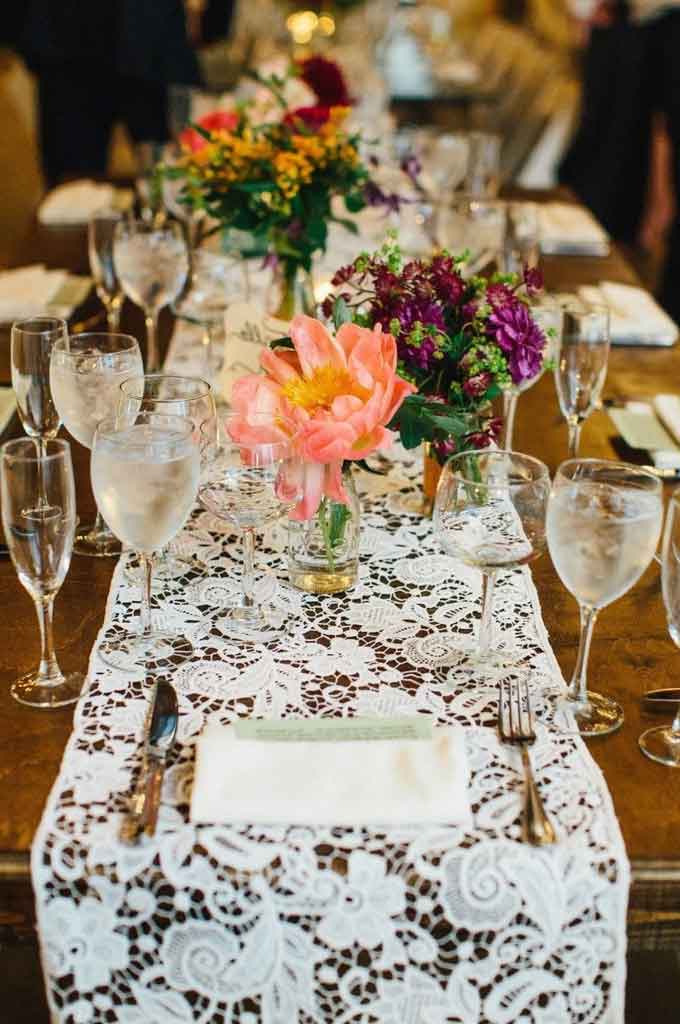 Lace table runner shows romance and it can be paired with almost any decoration. They are feminine and sweet without having to add to many additional embellishments to the table. So, you can save a lot of money by using this wedding table runner ideas. In addition, you have to choose white lace runners to make it perfect.
Not only have that, but you can also pair with your wedding theme and some candles. This look is a top option for vintages and rustic vibes. It is also a versatile choice for your wedding since they come in all patterns and sizes. Thus, you can accommodate the feel of your wedding day without being overwhelmed.
Creating wedding decoration is not as difficult as you think. You can use numerous elements to add beauty to your big day. For instance, you can choose table runners as the main centerpiece. Several options that you can pick are lace, bright, stripe, and sequin table runners.
Here you are at tablecoversdepot.com, content above 4 Wedding Table Runner Ideas to Beautify your Decoration published. Many people trying to find details about ideas for wedding table runners and of course one of these is you, is not it?