Home
»
Table Ideas
»
Personalized Napkins, Please Read This First Before You Do It! | Table Covers Depot
Personalized Napkins, Please Read This First Before You Do It! | Table Covers Depot
|
First Step To Understand Personalized Napkins
Personalized napkins are the perfect way to enhance the beauty in your dining room. More than that, by understanding how to personalize napkin, you can also create comfort on the dining table. Therefore, before you start, it is better to read the article below first.
How To Choose Napkin
What's on your mind when you hear a napkin or dinner napkin? Maybe you will immediately imagine how the material and design. Below, we'll give you tips on how to choose a napkin that suits your needs.
1. Which is better? Paper napkins or cloth napkins?
There are two types of napkin material, namely cloth and paper. If you want a beautiful napkin that can be washed repeatedly, for an elegant atmosphere or a banquet, then choose cloth napkins.
Do you want a napkin with beautiful motifs, thin textured, and used for guests at your party in large quantities? Paper napkin is the answer! Paper napkins can be used to decorate plates, even as candy wrappers. After use, napkin paper can be discarded. So, you can buy it according to your needs. If necessary, you can buy it in large quantities as your supply.
2. Check the materials and napkin texture
Generally, cloth napkins are made from cotton, polyester and flax linen. Cotton is considered more durable and comfortable when used. On the other hand, linen is made of natural fibers from the flax plant. Flax linen is heat-resistant and stays durable even after being washed repeatedly. Meanwhile, polyester material generally has good color and shiny, but not good for absorbing water. So, choose a cloth napkin that suits your needs.
For paper napkin, some brands are made from recycled paper. Some are strong and some are fragile. Others are made with a mixture of rayon materials. Check the materials before you buy it. Depending on the napkin texture, the atmosphere on your dining table and plates can change drastically.
3. Adjust the napkin size to your needs
Depending on how you will use the napkin, the size may vary. Napkins used for parties or as ornamental snack plates are better suited in small and thin sizes. However, for formal dining tables or fancy restaurant dishes, you will need large napkins, depending on how to fold it.
For formal dinners, choose napkin with a size of 50-75 cm. For lunch, 40-50 cm would be more appropriate. If you are having a cocktail party, choose a smaller size such as 30-40 cm. When choosing a napkin, don't forget to check the size, ok.
4. When shopping online, don't forget to check the quantity!
Napkin's quality must certainly be considered, but when buying it online, many people forget to check the quantity. Sometimes, some sellers set relatively high prices. As a result, you will think that the napkin that was sold already consisted of a set, but it didn't. One pack of paper napkins usually contains dozens of sheets, while cloth napkins are generally sold in a sheet or less than ten sheets per pack. So, make sure you check the quantity before buying it!
Tips For Using Napkin
Have you chosen your favorite dining napkins? Next, we provide guidance on several ways to use a napkin.
1. The right ethics in using a napkin
When you attend a formal event like a gala dinner, there are several ethics to keep in mind. If there is a napkin on the plate, it is not polite if you do not use the napkins.
First, unfold the napkin, then place it on your thighs before eating. When your hands or mouth are dirty, you can wipe them on a hidden area inside the napkin. If you want to leave the table for a while, put the napkin on a chair, not on the table. Thus, you indirectly tell the waiter that you still haven't finished eating and only leave the table for a while.
2. To carry easily, wrap your cutlery with a napkin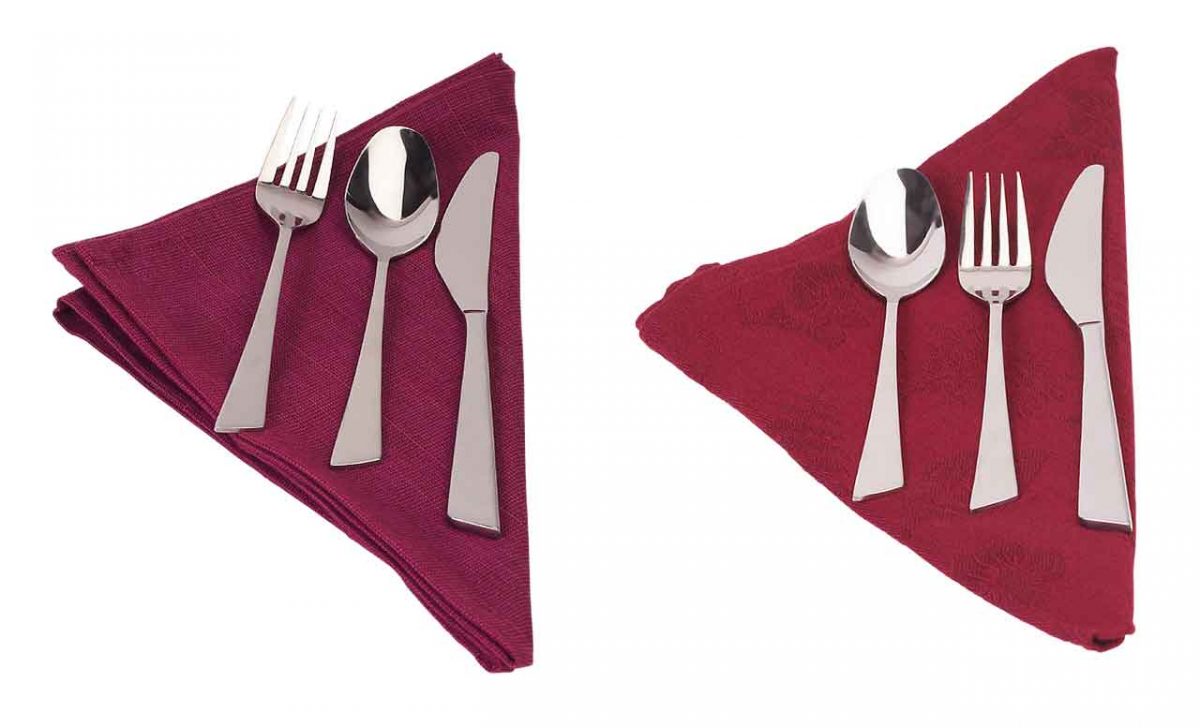 When you bring cutlery such as chopsticks and spoons, do you have a special bag to carry it? If not, we advise you to wrap your cutlery with a napkin. Just tie it with rubber or ribbon to make it look more cute. In this way, a fork or knife won't harm your hands or scratch some items in your bag or backpack.
3. Beautiful napkin is also perfect for wrapping candy and other items
For someone who is preparing a birthday gift, why not wrap the candy and small biscuits with a napkin? Especially paper napkin that is thin and has cute colorful motifs. Candy that has been wrapped in a napkin will be easy to carry in a bag, perfect for a picnic.
4. You can fold it into various shapes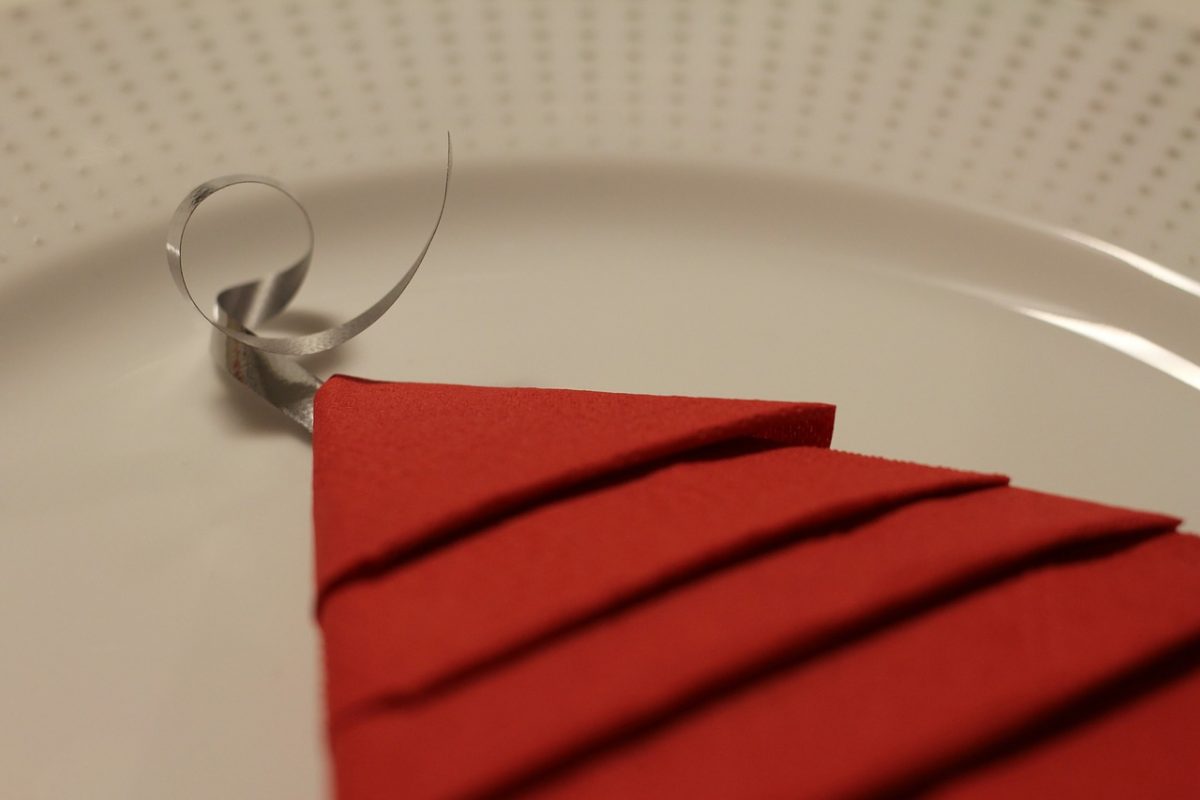 Napkins, especially large ones, you can fold it into various shapes. For example, you can arrange several triangle napkins to make a Christmas tree like the picture above. You can also make various shapes of animal origami or flowers. Just customize it with the event theme. Guaranteed, your guests will be amazed by the beautiful dining napkins arrangement on their plates. This idea can also be used for children's birthday events. They will definitely love it!
Conclusion
Personalized napkin technique is one of several ways to beautify your dining table appearance. So, after you understand the basic knowledge about the napkin, you can easily create a personalized napkin.
Well then, have you made a choice for a perfect napkin product? Using paper napkins or cloth napkins, the appearance of your plate and dining table will look more stylish. If you choose a napkin that matches your theme and style, this will certainly enhance the pleasant atmosphere at the banquet event. Please choose napkin products based on your needs!
So, if you wish to receive these fantastic graphics about Personalized Napkins, Please Read This First Before You Do It!, click on save link to save the pictures to your personal computer. These are prepared for transfer, if you'd rather and wish to obtain it, click save logo on the post, and it'll be directly down loaded to your PC.
Thanks for visiting tablecoversdepot.com, article above Personalized Napkins, Please Read This First Before You Do It! published. Most people attempting to find details about Personalized Napkins and of course one of them is you, is not it?