Wedding Table Settings That You Must To Know | Table Covers Depot
|
Wedding decorations aren't just talking about organize and decorate your room only. But, determine an appropriate wedding table settings and also wedding table decorations is one of the important things to do, so you have to get ready from now to find out the right wedding decoration ideas that suits to your preference.
When think about a wedding decoration themes, one of the elements included in it is finding the right table design. Choosing the table shape that you will use to entertain guests at a wedding is quite confusing. Check the following tips.
Before deciding the style of wedding decorations and also the position of the chair, You have to know the habits of the commonly used in table settings for wedding.
The bride has a position in the middle of a long table which is the center of the table.
Older guests are usually on the same table with other family members.
If you have a special guest that you have to invite, but the guest is the type of person who does not want to mingle with other guests, then you can place them on a table that is located a little away from other guests. So they don't feel disturbed and still enjoy the party.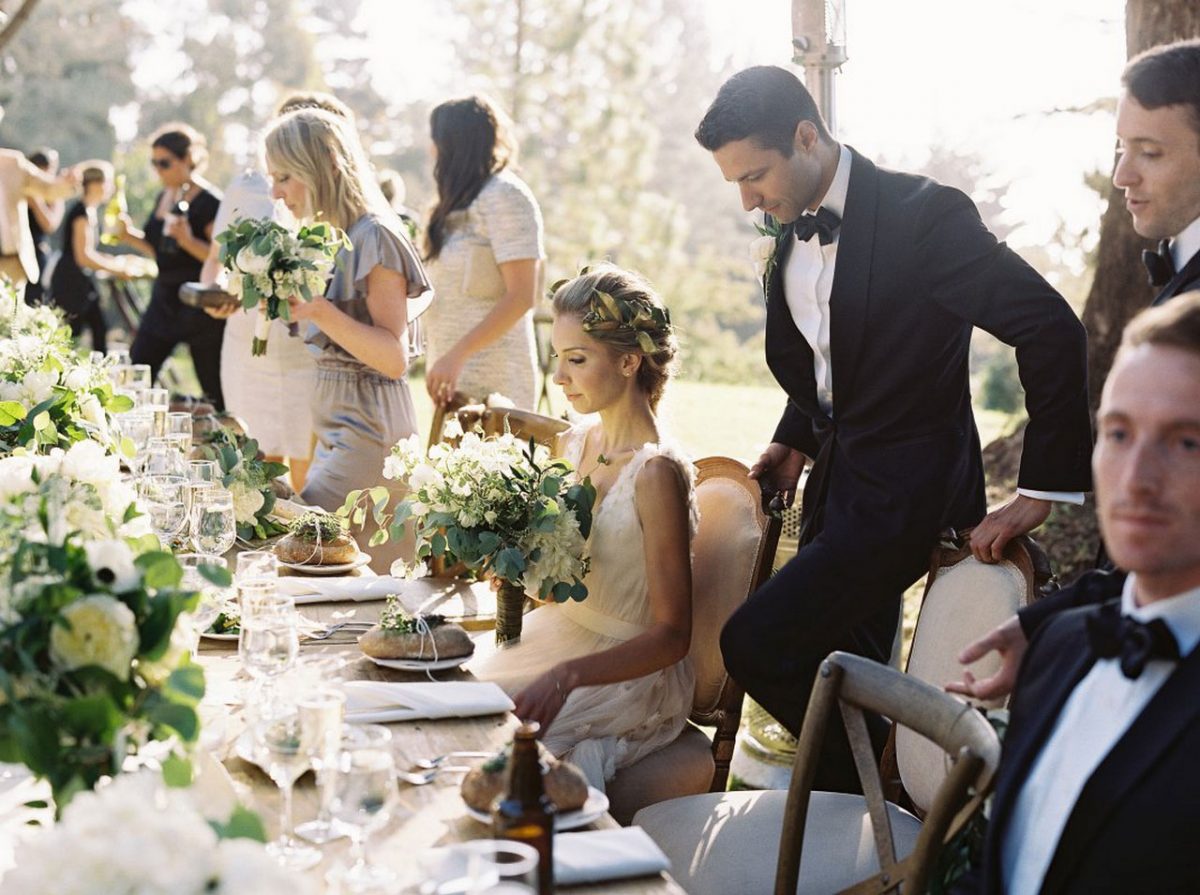 The instructions above are generally used when determining the seating position of the guests, but the instructions are flexible and can be changed according to your wishes.
The next step, you can start to determine the wedding table decoration what is suitable for the wedding venue. For that, see the following wedding table settings ideas and what decorations are most suitable for your wedding.
BANQUET TABLE SETTING
Show a beautiful long table with a set of decorations on a long table with a combination of ceramic vases and tall candles. In addition, the banquet table can also be used to anticipate the size of the wedding venue if there are not too many guests present.
The presence of banquet tables can also be decorated with a variety of interesting tableware, but the composition must still look suitable. Don't forget to put linen napkins and tablecloths to enhance the beauty of the wedding table. Don't forget to insert a card with the name of the guest to inform the position of your guest seat.
ROUND TABLE SETTING
Try to put three of the main decoration in the center of the round table. It will be more interesting if you choose the same solid color.
Don't forget to add other color accents. Gold, silver or metallic accents in some areas will add unexpected effects.
Try to put small accessories but details. Your wedding decorator don't need to bring items that are too large. Try it with a small secret box placed on a plate. Your guest will be more curious.
Use extra accents on a platter with a small bowl-shaped square or pentagon. To make it look different, choose motifs such as flowers, damask, or stripes on tableware.
SQUARE TABLE SETTING
If you are bored with the round table concept, you can try with a square table style. Square table can be a lovely choice when combined with linen material in accordance with the color palette of your choice. With this square table setting, your wedding table display becomes more modern and makes wedding venue decorations more beautiful when photographed.
You can use square table as long as it matches the theme of your wedding. In addition, you must discuss with your wedding decorator so that it is not always focused on table design. Try adding seats in accordance with the table area. Also beautify with circular accents on other decoration elements.
THE LONG TABLE SETTING
This long table style is becoming a trend in various intimate wedding themed. Table style like this makes your wedding party very intimate, all invitations can blend together and dissolve in laughter and jokes together. This long table style is very beautiful for your wedding reception, because the shape continues to extend to the wedding venue. However, this style of wedding table decoration has a disadvantage if one of the invitations suddenly cancels its presence, it will interfere with the sitting position of all guests and damage the appearance of the overall sitting position.
MIXED TABLE SETTING
If you want a different look at your wedding, it never hurts to try by combining all the styles of wedding table settings decorations that are above. Surely your wedding venue will look more attractive and unique. However, you also have to get ready for a budget of wedding table decorations that might increase due to the many variations that exist.
All wedding table settings that have been described above, are also adjusted to your wedding dream decorations. However, you need to remember before determining the right style of wedding table decoration, you must consider the area of the wedding, the number of guests, and also the budget that you allocate for the wedding.