Tips and Trick to Decorate Formal Table Linens | Table Covers Depot
|
Who said formal tablecloth should be used only on a special occasion? They can be used for breakfast, lunch, or dinner to create great style. You will be surprised at what a little creativity and trick can give you a beautiful decoration appearance. So, how to do that? Check out these tips and tricks to decorate formal table linens that will enhance the look of the table.
These are some Decorating Ideas That You Can Combine with Formal Tablecloth
Using Minimalist Black and White Theme
Black and white is the most suitable style you can adopt for your design. If your tablecloth has some dark colors whether as an accent or main color, then use white utensils. You can do the opposite with the black utensil and white table linen. But before that, don't forget to match your décor and furniture to make your ideas suitable for a tablecloth.
Using Rustic Theme
A rustic theme is popular to make an aesthetic appeal. The simple design with neutral color will blend perfectly with metal and wood elements. Besides, you should add some pretty ornament on the formal table linens with some vas, flower centerpiece, and a candle for your decoration.
Also, if you like a natural look for your dining table, the best option is using a color combination. Since the rustic design is described as simple and beautiful, color can help accentuate appearance. Selecting colors might indeed be challenging, but using white color decoration is the safest solution. You can choose porcelain vases or white candles.
Adding Some Color by Using Runner and Mat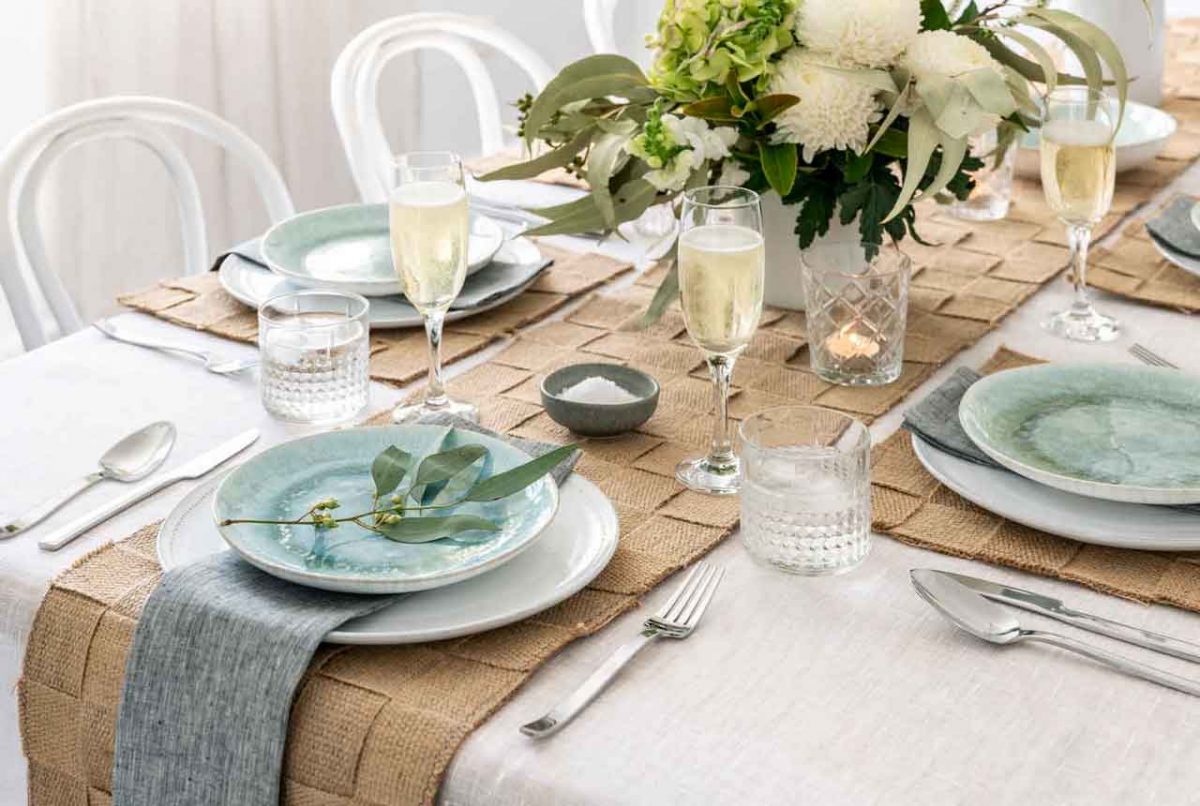 If you want to add color to the tablecloth, then a table placemat or runner is the best selection for your table adornment. Since table linens come in a simple design, you can choose a runner that covers across the table. Thus, you can pick a placemat that has color contrast to combine with formal table linens. However, it is preferable if you want to use soft colors such as baby pink, or blue.
Besides, you can use a white tablecloth to enhance the look for both casual or formal occasions. All you need to do is adjust the setting and decoration. If you choose casual dinner, serving cute applicants is an excellent choice. But for a formal dinner setting, it would be better if you can combine some placemats, flower vases, and candles.
Using the Classic Theme to Adjust the Decoration
In case you want to make a neutral and soft decoration, you will go wrong to choose a classic style. A beautiful table cover has a minimalist design that can be your option. It means you don't need too much extra detail to decorate and create classic appealing for formal table linens. You can bring some wine glasses, white plates, utensils, and complete the ambiance with mid-century furniture.
A formal tablecloth can blend with many decoration ideas. It can bring an elegant and stylish ambiance to the table when using a certain theme. You can choose a classic, rustic, and minimalist design for your decoration. To add some final touch, use a piece of ornaments such as flower vase, chandelier, beautiful utensil, and furniture.
Here you are at tablecoversdepot.com, article above Tips and Trick to Decorate Formal Table Linens published. Some people searching for info about (What Will Formal Table Linens Be Like In The Next 10 Years? | formal table linens) and certainly one of them is you, is not it?